Priddy Folk Festival prides itself on a very strong dance element to the festival, including morris and display dance groups, ceilidhs, and workshops. Free and open to all, you will find the Dance Festival at the Eastwater Marquee and on the Square in the Market Field throughout the weekend.
See also Workshops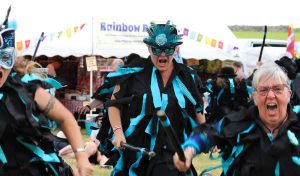 Enigma Border Morris
Enigma Morris was formed in 2014 in South Petherton. They are a mixed and energetic Border Morris side dancing wherever and whenever they get a chance.
Mr Wilkins Shilling
Mr Wilkins Shilling are a Ladies North West Clog Morris team from Bath, Somerset.
They were founded in 1988 and dance locally at various venues around Bath and the Southwest of England. They attend several Folk Festivals throughout the year fairly regularly, such as Bradford-on-Avon, Chippenham. Portsmouth, Sidmouth and Swanage, and here in Priddy.
Northgate Rapper
Northgate Rapper are Bath's finest (and only) male sword team. They continue to ignore the magistrate's ruling and perform high energy dances in any pubs that will let them in, leaving behind a trail of broken hearts and lights. Now in their 31st year, most members are significantly younger than the team itself. Expect mild peril, fast feet, intense concentration and dynamic performance.
Rag Morris
Rag Morris is a vibrant and enthusiastic Morris side based in Bristol. They dance mainly Cotswold traditions with just a dash of the Welsh Borders, and you can easily spot them in their multicoloured tatter jackets and bells. An affiliate society of Bristol University Student Union and formed in 1981 they are one of the oldest still existing university Morris sides in the country, and over the years they have found themselves embroiled in more and more adventures!
Somerstep
Somerstep is a group of musicians and step dancers, based near Crewkerne in Somerset, who aim to encourage social dancing and step dancing at informal occasions. They have musicians with an impressive repertoire of Dorset and Somerset traditional tunes and individual dancers who dance the steps of Dartmoor steppers Bob Cann and Les Rice, and freestyle to Southern English jigs, polkas and hornpipes.
Sweet Coppin
Sweet Coppin are a Clog Dance Team based in Taunton. They dance a mixture of Clog stepping, North West Team Dances and a selection of other dances from across the British Isles which they call 'soft shoe' dances.
Tatters and Tails
Tatters and Tails are a Border Morris side from Bristol, Bath and Wiltshire and were formed in 2012 by a group of friends who wished to dance in the Border Tradition. They dance at venues across the South West throughout the summer, performing at fetes, charity fund raisers as well as Folk Festivals and Morris gatherings like Chippenham, Wickham, Bradford-on-Avon and here at Priddy.
Thrales Rapper
"Thrales is a sword dance team from London; bringing culture and enlightenment to the congestion charge zone and beyond. Spawned from the coal mines of south Middlesex in 1994, we perform both original and traditional rapper sword dances. We are an active and award-winning team, with monthly dance-outs, and bookings for festivals and events throughout the year. Can often be found looking serious and committing no nuisance."